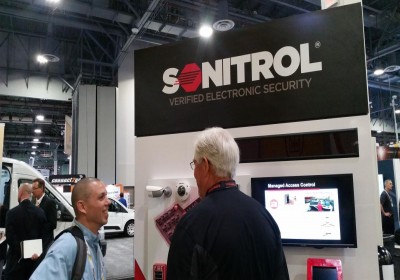 Last month, Sonitrol attended the ISC West tradeshow located in Las Vegas, NV during the days of April 5-7, 2017. Sonitrol highlighted alarm verification with impact activated audio detection, along with newer releases, glass break analytics and the multi-sensor camera.
Throughout the week, Sonitrol met with key National Accounts, a number of Sonitrol Dealers and Distributors and the STANLEY CSS sales teams, along with several new prospects. Julie Beach, Vice President of Sales and Marketing for the Sonitrol brand recapped the show saying, "This year was a great ISC West show for Sonitrol, we saw a lot of interest in the new products that we displayed at the show including the new multi-sensor camera".
In addition to attending several key meetings, Sonitrol team members also attended many great events including Partnership For Priority Verified Alarm Response (PPVAR)'s panel on the Future of Priority Response. The panel was moderated by Joey Rao-Russell, the President and CEO of Kimberlite Corp., which makes up of several independent Sonitrol franchises.
Sonitrol prides itself in being the leader in verified electronic security, which significantly increases the safety and efficiency of officers responding to alarm calls, resulting in more than 176,000 documented apprehensions since 1977.